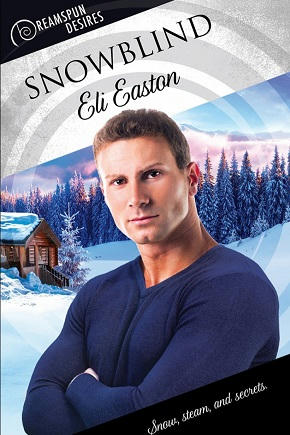 Title: Snowblind
Series: Dreamspun Desires #29
Author: Eli Easton
Genre: Contemporary, Suspense
Length: Novel (196 pages)
Publisher: Dreamspinner Press (1 Mar 2017)
Heat Level: Low
Heart Rating: ♥♥♥ 3 Hearts
Blurb:  Snow, steam, and secrets.
The latest snowstorm carries something unexpected to the doorstep of Hutch's secluded Alaskan cabin: a stranger named Jude, the most beautiful man Hutch has ever seen. Jude says he's in the area for a ski trip and that he fled a domineering lover, thinking he could make it into town. But Hutch is a suspicious SOB and treats his unwanted guest warily. The problem is Jude isn't just gorgeous, he's funny and smart and flirtatious.
Two gay men snowed in for three days—things happen. Really good things. By the time the storm clears, Hutch finds himself a little too attached to Jude Devereaux, San Francisco-based male model. But is Jude what he claims to be? Or is he entangled in the secrets Hutch moved to Alaska to escape?
ISBN: 978-1-63533-146-2
Product Link: https://www.dreamspinnerpress.com/books/snowblind-by-eli-easton-8127-b
Reviewer: Prime
Review: I'm not really sure how I feel about this book. I didn't outright dislike the book, but at the same time I didn't love it. I think it had more to do with the depth (or lack thereof) of the plot rather than the writing style. I've read and enjoyed books by Eli Easton in the past. So I think, for me, this is one of those books where it was good enough but certainly not my cup of tea.
The blurb for this book really only covers the first half of the book. The second half of the book is only addressed by two questions at the end of the blurb. The story opens with Hutch, who lives isolated in Alaska, finding a man stumble upon his cabin. Jude is basically hypothermic when he finds his way to Hutch's cabin, but with his "sob story" (as I like to call it), with the two hot men snowed in for a few days the stage is set for a fun time. But not everything is as it seems. When the snow begins to clear reality brutally comes crashing down and Hutch has to face that not only can he not run from his past, but not everything is as it seems in the present.
I really can't say anything else because there is no hint in the blurb and I don't want to spoil things. However, suffice to say if you like a bit of intrigue – spies, military and whatnot – then you might well enjoy this story. For me, I think, something about the flow of the story didn't go well for. Everything just happened – bam, bam, bam – we were told the facts but I never fully felt the emotions of the MCs despite the fact that I really, desperately wanted to.