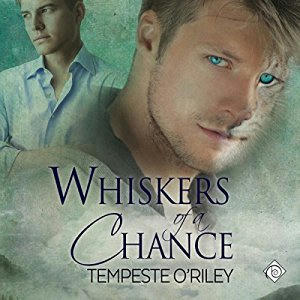 Title: Whiskers of a Chance
Author: Tempeste O'Riley
Narrator: Craig Beck
Genre: Paranormal
Length: 7 hrs, 14 mins
Publisher: Dreamspinner Press LLC (20th September 2016)
Heat Level: Moderate
Heart Rating: ♥♥♥♥ 4 Hearts
Blurb: Jason Grant runs his own IT business from home, owns his own home, and has the best friend he could imagine. What he doesn't have, or believe he will ever have, is love. When Jason catches a glimpse of his new neighbor on moving day, his libido ignites and his fascination in piqued. He even manages to concoct an excuse to go over and meet the man who makes him hope and want for more than he has in years.
Keith Skyler is a shifter in a world where his kind is known only to a few, but they don't often mix and they never mate. Keith has been hoping for a mate since before he can remember, but gay lynx don't have true mates. As far as he knows, they don't have mates at all. However, while moving his little family across Seattle – and away from their tribe – his reality tips and spins more than he thought possible.
When these two men meet over a dish of five-cheese broccoli noodle casserole, sparks fly. Who knew a welcome-to-the-neighborhood gift could give both of them their chance at love?
Product Link: Audible US | Audible UK
Reviewer: Prime
Review: I love a good shape shifter MM romance, in fact it has to rate as my favourite type of romance and Tempeste O'Riley's Whisker of a Chance definitely hits all the right marks. Good narration also helps a lot too, which really helped me get into the mind of both main characters. This is the first time I've heard Craig Beck's work but I have to say he I rate him among my favourite narrators.
Lynx and alpha's heir, Keith Skyler, has managed to move himself and his sister and nephew away from their tribe (chain) but most importantly, he has removed them away from his manipulative and evil father, the tribe's alpha. This new life has naturally starts Keith off on an adventure he didn't know could ever be possible for him – a gay shifter who was born to be an alpha and Keith of was fairly certain, he would never have a true mate because he was gay. Then there is Jason Grant. He was instantly infatuated by his new neighbour and after giving Keith a welcome to the neighbourhood casserole, he too is flung into an adventure and a world completely unknown to him.
I can't really think anything that makes this book stand out as an OMG when it comes to shape shifter and soul mates/mates, even when it becomes very apparent that there is more too Keith's lynx than being an alpha. However, I really did love this. The main characters had their own complexities, which were thoroughly explored with our MCs and partially explored with the minor characters. I especially love Jason's BFF Sasha (Russian guy of course), Keith's lynx friends including Vance as well as the wolves that Keith also meets through his work as a vet. In fact, I would have loved to have known more from the latter two groups.
The characters were complex, enjoyable and relatable – the sex was hot – the attraction and tension between Keith and Jason was palpable – and overall it was a lot of fun.