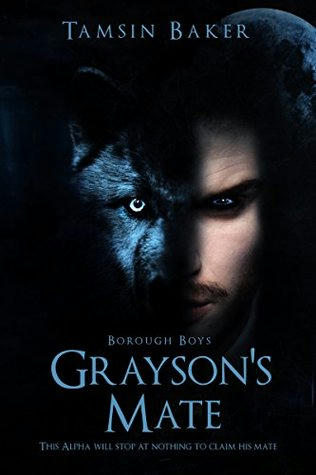 Title: Grayson's Mate
Series:  The Borough Boys # 1
Author: Tamsin Baker
Genre: Paranormal
Length: Novella (105pgs)
Publisher: Tamsin Baker (December 27, 2016)
Heat Level: Moderate
Heart Rating: ♥♥♥♥ 3.75 Hearts
Blurb: At thirty-five, Grayson Nox is the business manager for his werewolf pack. He's good at his job. Too bad he's not as successful at finding his destined mate. He'll know her by a distinctive birth mark, but he's getting tired of searching. 
But the night Grayson finally sees his mark, it's not on a woman. It's on a gorgeous guy who wrecked his car near pack headquarters. Grayson brings the beguiling stranger home to heal … and to try and make sense of this strange twist of fate.
Medical student Reagan Forster has studied for ten years at University in Melbourne. At last he's ready to sit his final exams and head out into the world to heal people. But when he foolishly tries to drive home after a thirty-six-hour hospital shift, Reagan passes out behind the wheel. 
He wakes in an unknown world, tucked away in the mountains of Greensborough, with the hottest guy he's ever met at his bedside. Their mating starts a fire hotter than either werewolf or man has ever known. 
But they must make their relationship work against the backdrop of conflict, as Regan struggles to find his place in this new world, and the pack battles the Rogue werewolves who are a constant threat. 
When the spoils are counted in the end … can Grayson and Reagan both be victors? 
ISBN: B01M17P1U2
Product Link: https://www.amazon.com/Graysons-Mate-werewolf-romance-Borough-ebook/dp/B01M17P1U2
Reviewer: Shorty 
Review: Grayson has been searching for the woman who is to be his mate and is shocked when it is apparent it's a man named Reagan instead. They meet when Reagan falls asleep at the wheel of his car and gets in an accident. Grayson takes him home to patch him up. From the beginning Reagan feels something is different. 
Now I liked the story but I would have liked further details regarding the mating marks and the background on the couple who started it all. I felt Grayson should have informed Reagan about himself "before" sleeping with the man and mating him.
Overall it was a good beginning to a series and nice set up interwoven for the next book. Good read.