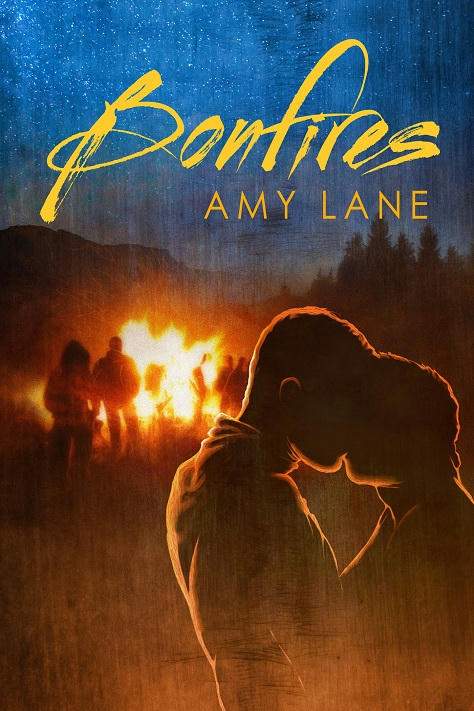 Title: Bonfires
Author: Amy Lane
Genre: Contemporary
Length: Novel (280 pages)
Publisher: Dreamspinner Press (March 24 2017)
Heat Level: Moderate
Heart Rating: ♥♥♥♥♥ 5 Hearts
Blurb: Ten years ago Sheriff's Deputy Aaron George lost his wife and moved to Colton, hoping growing up in a small town would be better for his children. He's gotten to know his community, including Mr. Larkin, the bouncy, funny science teacher. But when Larx is dragged unwillingly into administration, he stops coaching the track team and starts running alone. Aaron—who thought life began and ended with his kids—is distracted by a glistening chest and a principal running on a dangerous road.
Larx has been living for his kids too—and for his students at Colton High. He's not ready to be charmed by Aaron, but when they start running together, he comes to appreciate the deputy's steadiness, humor, and complete understanding of Larx's priorities. Children first, job second, his own interests a sad last.
It only takes one kiss for two men approaching fifty to start acting like teenagers in love, even amid all the responsibilities they shoulder. Then an act of violence puts their burgeoning relationship on hold. The adult responsibilities they've embraced are now instrumental in keeping their town from exploding. When things come to a head, they realize their newly forged family might be what keeps the world from spinning out of control.
ISBN: 9781635333411
Product Link: https://www.dreamspinnerpress.com/books/bonfires-by-amy-lane-8304-b
Reviewer: Aerin
Review: Amy Lane is the only author who could play with my heart this way; no matter what she writes, be it vein-slashing angst or light, fluffy romance, Amy's books never fail to engage my feelings to the max. Gah! Bonfires is so much more than a book! Bonfires is a story about life, with real life characters who deal with real life problems; I know this book is fiction, but it felt like the real deal.
The MCs are both mature characters with families of their own, both in their 40's with grown kids who learn that happiness comes in all shapes and forms. There was something so real about Aaron and Larx, something so easy to relate to, I couldn't help but fall in love with them both. Aaron is a deputy sheriff and Larx is a high school principal, they're both bisexual and both have known love and loss in their lives, even if it was in different contexts. But what I loved the most about them was that they were both amazing fathers who's love for their children was easy to see.
There's a lot going on in this book… high school drama (because we deal with a school full of teenagers, DUH!) and Larx's fight to make ALL kids feel safe and protected; a case of attempted murder that might or might not be a hate crime, a body floating in the lake, and a plot that ties it all together perfectly. Despite the fact that Aaron and Larx's romance was not the only focus of the entire book, their relationship carried the undertones of maturity and solidity. I was perfectly content with the way their romance was handled; there might not have been fireworks and explosions, but the comforting, everlasting slow burn was fitting for them both.
The secondary characters were outstanding on their own, from the town bitch and resident evil, to the amazing kids like Larx's daughter Christiana, Aaron's son Kirby, and Larx's new 'adoptee' Kellan. There's a secondary romance we got to witness for a very short time, one that's fragile and vulnerable. I am dying to read more about those two particular characters in the future!!!! I need to read their story like I need air to breathe!
This book was amazing, I can't recommend it enough!