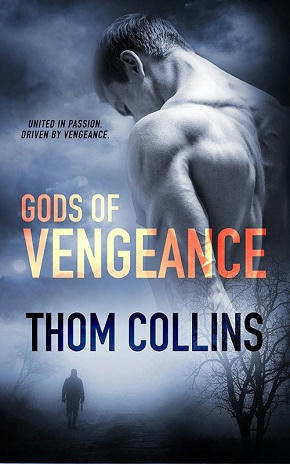 Title: Gods of Vengeance
Author: Thom Collins
Genre: Contemporary
Length: Short Story
Publisher: Pride Publishing (March 21, 2017)
Heat Level: None
Heart Rating: ♥♥♥ 3 Hearts
Blurb: United in passion. Driven by vengeance.
Owen Hazard, a young farmer is dead. Murdered while he tried to prevent a robbery on his land. His older brother, Captain Mark Hazard, returns home for the funeral. Owen's best friend, Riley runs the local pub. He has information about the night Owen was killed – he knows who was responsible. The police are doing nothing. Vengeance is their only option.
United in their passion for each other and a thirst for revenge, Riley and Mark must take the law into their own hands if there's to be any justice for Owen
ISBN: 978-1-78651-562-1
Product Link: https://www.pride-publishing.com/book/gods-of-vengeance
Reviewer: Lisa
Review: Two men come together to kill those responsible for another's death.  Owen was murdered trying to stop something, although it is said a robbery gone wrong, everyone knows it is a lie.  Now his brother and his best friend must prove who did the killing and make Owen's death right.
Now I had heard, not read, that this story was in "The Brothers in Arms Anthology".  There is murder, revenge, violence and so much more in such a short story.  The problem with it was the way it was told.  It just came off very choppy and did not flow like it really should have.  I also didn't much like the idea of two men committing murder, even if it was for someone they loved.  I am sorry to say that this book was definitely not for me.