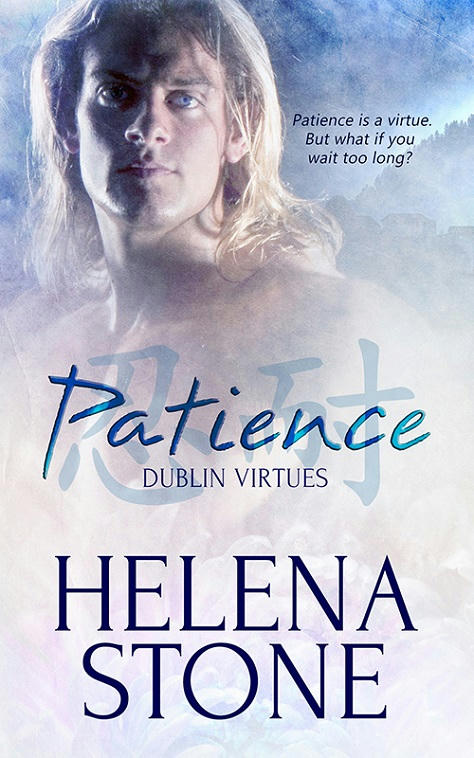 Title: Patience
Series: Dublin Virtues 01
Author: Helena Stone
Genre: Contemporary
Length: Novella (170pgs)
ISBN: 978-1-78651-536-0
Publisher: Pride Publishing (28th March 2017)
Heat Level: Low
Heart Rating: ♥♥♥♥ 4 Hearts
Reviewer: Pixie
Blurb: Patience is a virtue. But what if you wait too long?
While Xander Ekman's dream of becoming a successful artist has come true, his love life has gone from bad to worse. Sick of the endless string of one-night stands, he accepts the challenge when his best friend, Erik, bets him that he can't be celibate for a month. Now all he needs is a reminder to keep his distance in the heat of the moment.
Troy Moriarty doesn't have time for love. He's too busy trying to keep his recently opened tattoo parlor afloat. Besides, ever since the man who was supposed to be his business partner abandoned him to run the shop on his own, he has a hard time trusting others.
When Xander turns to Troy for a tattoo that will remind him to be patient, the attraction is instant. But faced with Xander's month of celibacy, Troy's trust issues, and a nemesis lurking in the background, their relationship may be doomed before it has a chance to begin.
Purchase Link: https://www.pride-publishing.com/book/patience
Review: Xander's life as an artist is working out for him but his love life is abysmal, the men he meets only want one night stands and Xander yearns for something more. Xander's best friend is concerned about him and challenges him to swear off sex for a month and Xander accepts the challenge. On impulse Xander walks into a tattoo shop to get a tattoo to remind him to think things through and take his time but he meets a man who makes him wish he'd rejected the bet.
Troy is busy establishing his new tattoo parlor when a customer walks into his shop and brings back memories of Troy's fractured trust, but Troy puts aside the memories of the man who left him high and dry to help the man out. The two reconnect at an artist showcase and over the course of a month become close, until the man who hurt both of them blazes back into their lives.
This is a great story of two men who have both been hurt in different ways finding each other and beginning to build something good between them. First we have Xander who is a talented artist but lacks confidence in finding a man who truly wants him, he's a nice guy who has been worn down by rejection and sometimes Troy's reactions have him confused but he's determined to cling to his hope that Troy is different from the other guys he's met.
Troy is a lovely man who has had his trust broken by Shane, a man who he thought was a good friend and his secret crush, meeting Xander has him torn at first because he's seen the man before and he can't help but wonder if Xander is of the same mindset as his ex-friend.
In this story we follow along as Xander's and Troy's friendship develops into something more, we get to see the perspective of both men so we get to enjoy the developing relationship from both sides and we know exactly what's going through both men's minds as they traverse their new relationship.
The characters in this story are well written and we get to know them pretty well, not only do we get to enjoy Xander and Troy but also their best friends Eric and Lorcan, I'm hoping we'll see more of Eric and Lorcan in the future because there's certainly some chemistry there.
I enjoyed this story, I found the characters to be engaging and entertaining, I enjoyed that their relationship is taken at a slow pace and that trust is built between them. Shane is an ideal bad guy with his selfish attitude, I just hope we've seen the last of him because Xander and Troy weren't the only ones wanting to punch him 😉 . I love Eric and Lorcan because they were perfect supportive friends; they're the type of guys that you'd love for your own friends so you can turn to them for advice and a night at the pub.
I recommend this story who love everyday contemporary romances, taking a slow paced relationship and adding a bit of tension to spice it up, great characters, a dash of hot sex and a very happy ending.