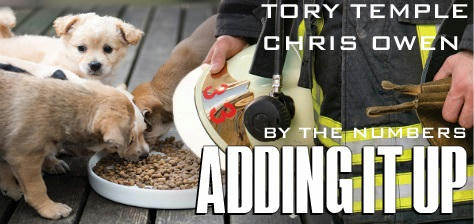 Hi guys, we have Chris Owen and Tory Temple popping in today with the fantastic cover to their upcoming re-release By the Numbers: Adding It Up, we have a quick introduction from Chris, a great excerpt and a brilliant giveaway, so check out the post and leave a comment to enter the giveaway! ❤ ~Pixie~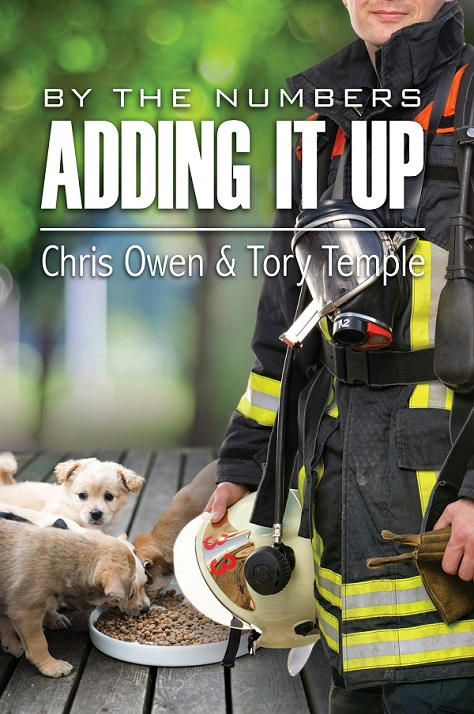 Adding It Up
by
Tory Temple & Chris Owen
Dogs, a young daughter, and shift work make for an unpredictable and never boring life for new couple Deuce and Trey. Trey is keeping his ex-wife out of their hair, but Deuce is determined to forge a truce between them all. Trey is vehemently opposed to a friendship between Deuce and Holly—she's the last person Trey wants more interaction with. Deuce persists, however, and tensions between them could spell the end of their  relationship.
They'll have to find a way to make it all add up again—or lose everything.
First Edition of  Adding it Up–By the Numbers II published by Torquere Press, 2013.
Release date: 3rd May 2017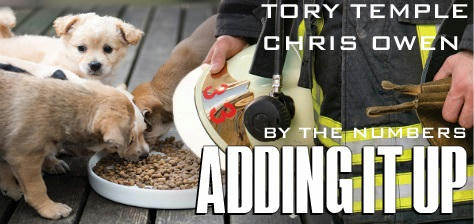 Introduction!
We're so excited to share this new cover with you! It's got absolutely everything important on it — puppies, fireman, food, light and dark, pretty colours, world peace, words, our names… but mostly puppies and a fireman.  Of course, there's way more than that inside the book, which you can find out for yourselves in just a very short while. For now, though — puppies. Fireman. Enjoy!
~Chris and Tory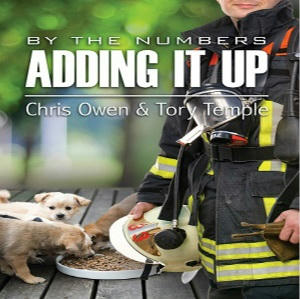 Excerpt!
Trey heard the shower go on and considered joining Deuce there, but his own stomach rumbled and he knew Deuce would be just as hungry. He set up the rice cooker, finished the vegetables, and prepared the chicken for grilling, then moved to the back patio where the barbecue grill lived. The dogs trailed him, naturally.
He had just sliced open one chicken breast to check for doneness when the kitchen door opened, and Trey caught the faint smell of shampoo and aftershave.
"That's a world of good food right there." The dogs, clearly agreeing, barely glanced at Deuce as he came out. "Feed me, and then we can catch up properly."
"Deal." Trey forked the chicken onto a clean plate and collected the vegetables from the foil on the top grill rack. "Get the rice on the table for me and we're good." He brushed past Deuce with a kiss on the way and brought the chicken to the counter to cut into pieces. Once again, the dogs followed.
When they were sitting and the dogs were a step away from the table, watching intently, Deuce said, "I've been thinking. We should have a vacation sometime soon. Just the two of us, not at home."
"I can't remember the last time I went on a real vacation." Trey speared a mushroom and ate it. "Wait, yes, I can. It was my honeymoon." They'd been happy too. Holly and he had gone to Hawaii and spent nine days on different islands. Then they came home, and eventually Trey realized that being married was more than just living with a woman in the same house. There were… obligations.
"Well, no offense, but Holly isn't invited this time." Deuce winked at him and took a bite of his dinner. "She can watch the dogs, though." That had to be a joke. "Where should we go?"
Six rested his chin on Trey's thigh and looked mournful. Trey fed him a small piece of chicken, although he knew Deuce would give him the familiar "please don't feed the dogs at the table" look. "Good question. Somewhere tropical? Historical? Informational? I don't care. I've never been to Disney World." Considering they were only an hour's drive away from Disneyland, though, Trey wasn't in any hurry to see the same place on the opposite coast. "Where have you always wanted to go?"
Deuce shrugged one shoulder and gestured with his fork. "The mountains might be nice. Tropical is always good though." He gave Trey a lazy smile. "Isolated would be nice."
"It would be," Trey agreed. "Some private bungalow somewhere. Or a cabin. We could go up to Tahoe and spend a week in the snow. I know a guy at work who commutes from there; want me to ask him if he knows of a place?"
"Skiing and snowboarding?" Deuce nodded slowly. "That would be great. Maybe a bit of hiking? And then a nice fire in the fireplace, a bearskin rug…." He trailed off and wiggled his eyebrows at Trey.
Trey snorted. "You're not subtle." He gathered up his and Deuce's plates and dropped a kiss on Deuce's head. "But it sounds good to me too. I'll ask Benji if he knows of something." He brought the dirty dishes to the sink to soak and dropped another bit of chicken to Six, who had followed. "We don't have anything for dessert except slice-and-bake cookies. There might be ice cream to go with them though."
"I was kind of hoping for something a little less sweet and a lot more you, actually." Deuce gave him a wide grin and stood up, looking far more predatory than he had before he'd gotten cleaned up and been fed.
"Well, now." Trey turned to face Deuce and leaned against the sink. "Who says I'm not sweet?"
"I like you sweet, don't get me wrong." Deuce was advancing on him, still grinning. "All sticky sweet and pliable. But I like it when you're spiced up too—even a little on the sour side."
He couldn't help but laugh. Deuce was relentless when he wanted something, and especially when that something was Trey. Trey stayed where he was and let Deuce get closer. "I'm too worn-out to be spiced up. But that'll make it easier for you to do whatever you want."
"Pliable it is." Deuce got close to him, fitting their legs together and taking a long kiss that pushed Trey into the counter. "How worn-out are you?" Warm hands found Trey's wrists and held them loosely.

About Tory & Chris!
Chris!
Chris Owen is from Eastern Canada, which explains the ridiculously pale skin. She's been writing and publishing since 2003, and is constantly excited by the varied and turbulent world of story. In 2016 and 2017 she is focusing on rebuilding her brand, launching a dynamic publishing imprint, releasing a new set of books set in a near future post-pandemic world, and getting to know as many new people as possible. Things which consume the non-writing portion of her brain include board games, fountain pens, a day job, children who insist upon growing up, and yarn. A lot of yarn. So much yarn. She lives with a husband, a son, a daughter, two dogs, two geckos, a cat, and her best friend via message apps.
Website | Blog | Twitter | Facebook Author Page | Facebook
Tory!
Tory Temple lives and works in southern California where she happens to spend a lot of time around firefighters. It makes for excellent storytelling, so Tory definitely uses that to her advantage! She is guardian to three pit bulls who only attack with kisses, one snobby cat, as well as other assorted friends from the animal kingdom. (Husband included.) Her fondest wish is to be a stay-at-home dog mom. You can tempt her with promises of cheese and/or Mexican food. On Saturday nights, she is usually watching Netflix and thinking about how to get the newest firemen in her head to hook up. Tory loves reader e-mails and looks forward to hearing from anyone who wants to drop her a line.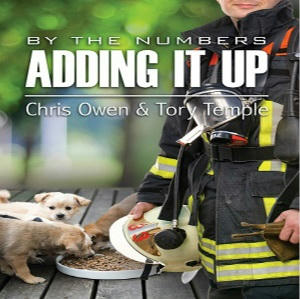 Giveaway!
Win an ecopy of Adding it Up!
(Just leave a comment on this post)