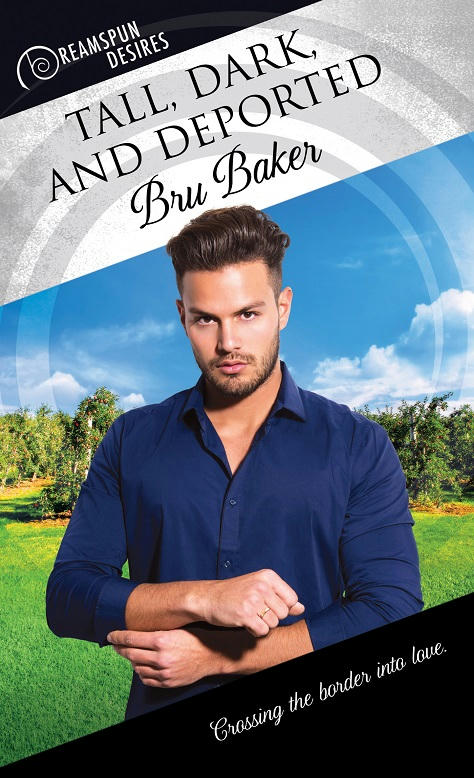 Title:  Tall, Dark and Deported
Series: Dreamspun Desires 31
Author: Bru Baker
Genre: Contemporary
Length:  Novel (236 pages)
Publisher: Dreamspinner Press (1 April 2017)
Heat Level:  Moderate
Heart Rating: ♥♥♥♥ 3.5 Hearts
Blurb: Crossing the border into love.
Snap decisions and misguided ideas bring Portuguese national Mateus Fontes and businessman Crawford Hargrave together at the Canadian border crossing.
Mateus is caught in a catch-22. With his almost-expired tourist visa, entrance to Canada is denied, but the US won't let him back in either. Crawford thinks he's solved things when he tells the border agent they're engaged, and it works—except now they have to actually get married before either of them can get back into the United States. But Crawford has been burned by marriage once, and he's determined not to make that mistake again.
Neither of them expects real feelings to bloom out of their fake marriage, but they do. And the two of them have to learn how to be honest with each other to make things work, which is especially hard when their entire marriage is based on lies.
ISBN: 978-1-63477-684-4
Product Link: https://www.dreamspinnerpress.com/books/tall-dark-and-deported-by-bru-baker-8257-b
Reviewer: Prime
Review: Get ready to suspend your disbelief for Bru Baker's contribution to Dreamspinner Press's Dreamspun Desires series. The title of the book, Tall, Dark and Deported, gives you most of the information that you need to know about the type of story you're about to read – so if you keep on going despite being deterred by the title then it's your own fault! 😉
What you see is definitely what you get with the blurb. We got one hot South American (sorry, can't think of his country of origin from the top of my head) side-eyes Prime *cough* Portugal, so European ~Pixie~), Mateus. He's done something rather silly and used the internet to get answers about how to "reset" his visa. He wants to stay with his brother and sister in law longer now that they are setting up their own orchard and his sister in law is about to have a baby. He's excited about being an uncle and wants to be there. That's why, at the airport, he meets Crawfard. Crawford is a businessman and after meeting Mateus, he is willing to help the guy, which of course means marriage!
Despite being a predictable plot, this is totally enjoyable as way as to just lose yourself. As I said in the opening sentence, you will need to suspend your disbelief but that don't let that deter you from the sweet romance (well, insta-love romance) that unfolds between the two men.