Hi guys, we have Clare London stopping by today with her new re-release A Good Neighbour, we have a great excerpt and a brilliant giveaway, so check out the post and click that giveaway link! ❤ ~Pixie~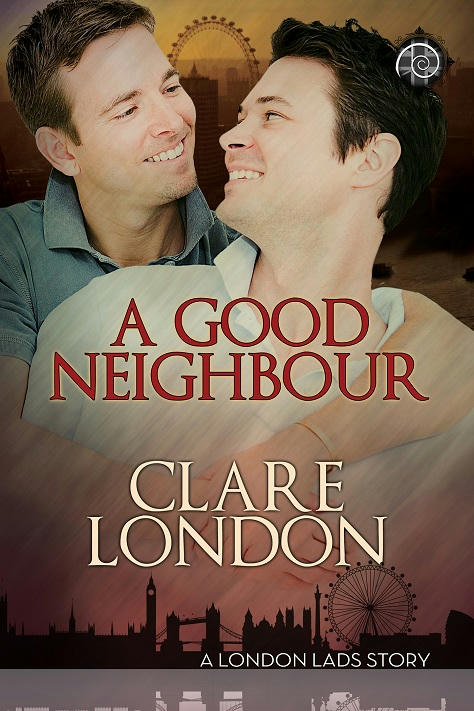 A Good Neighbour
by
Clare London
A secret affair can't go on forever.
Dylan Philips admits it himself: he's a relentlessly single man in a small suburban town, both proud of and resigned to being a good teacher and a devoted nephew to his mischievous great-aunts.
When the aunts take a hand in matchmaking him with Josie Whitman, the girl who lives along the street, Dylan doesn't tell them what kind of soul mate he's really looking for—and the fact that he's already found the man in question. It's not Josie who's travelling from London every month to her town property, but her journalist brother Neal. And Dylan meets up with Neal whenever he can.
But decisions must be made for their future. Dylan is risk-averse to everything from overseas travel to coming out, whereas Neal embraces adventure—and now he wants to take Dylan with him.
Horrified that his chance at love will move even further out of his reach, Dylan realises it's time for him to own up to what kind of man he really is. He needs to find courage and compromise. And who knows whether the great-aunts will be a help or a hindrance with that?

First Edition published as A Good Neighbor by Amber Quill Press/Amber Allure, 2009.

Excerpt
I LOVED my two great-aunts dearly—I always had. But they'd been on at me for years to settle down. To find my true love—to marry, and all that romantic jazz.
Problem was, in their mischievous and slightly rheumy eyes, it involved a girl.
"You've been friends for ages with that sweet girl Josie Whitman. Wouldn't that make a very neat arrangement, Dylan? She's a close neighbour already." Aunt Bess's shortsighted eyes screwed even smaller with the effort of focusing on me. She was small and plump, perched precariously on the edge of my sofa cushion, and her outrageously bright yellow nylon cardigan kept sliding off her shoulders. She yanked it back up absentmindedly and smiled at me, the expression of girlish mischief at war with her grandmaternal looks.
"She's a fine-looking young lady," Aunt Mitzi agreed in her high little voice, her slim and nervy body fluttering like an exotic bird dressed in jersey and denim, trapped in the comfortable folds of my capacious old armchair. Her elegant hands shook continuously with the onset of Parkinson's, and today her sparse hair was dyed a rather indigestible auburn. "I said so, when they first moved in, didn't I, Bess? Josie and her brother, both of them with those dark, strong features." She peered at me too. "She'd look a real treat standing beside you, Dylan. Something to offset that sickly pale look of yours. Someone to share all this leisure time you have when the dear little children go home every day."
I rolled my eyes, but just out of her sight. "I'm fine, thank you. Not sickly at all. And it's not leisure time, as you well know. My students are not little children, they're young adults at college, and I have plenty of their course work to do outside of class time. And when I am free, I have my own friends."
"Friends are all very well, Dylan. But that's never the same as a soulmate."
Did they really think I didn't wish for that as well? Nearly thirty years young was how I described myself, a reluctantly single science teacher living in a small, quiet suburb on the outskirts of London. Petersham was close to Richmond Park and less than ten miles from central London, but some days it might as well have been on the moon. The residents liked to call it a village—I called it a time warp. Don't get me wrong, we had the benefit of London's public transport and a wide variety of neighbours. But we also had the minimum of eating places—most definitely no McDonald's yet—and we still played cricket on the green in the summer. Life there was cosy and fun most of the time, and luckily it had access to several good colleges so I'd found a good, secure teaching job. But I knew from my early teens that if I wanted adventure, I wasn't likely to find it at home.
And of course people loved to gossip in that kind of setting. That is, gossip about me and my lack of a girlfriend. At least, my great-aunts did.
Bess sniffed in my direction. "I'm not so sure about that sometime brother of Josie's."
I hid my smile. "His name is Neal. And sometime brother? What does that mean?"
Mitzi grimaced. She didn't always agree with Bess, but when she chose to, they became an immutable force. "Dylan, you've been a restrained, responsible boy all your life. I don't expect you to understand the eccentric ways of these artistic types."
Good God. She made him sound like he walked naked through the streets at whim, with Lady Caroline Lamb on a leash behind him. Probably ate babies' heads on toast for breakfast too. "Mitzi, he's a journalist. A writer. That's his job."
Mitzi sniffed in concert with Bess and shook her head. An auburn curl worked loose and fell over her forehead. "Coming and going at whim," she pronounced. "Arriving and leaving at all hours, with no decent sense of routine that I can see. Some kind of gypsy, I'd call him. Hardly ever visits the local shops, never has time for neighbourly business, like Josie does. She's always been very hospitable, using local tradesmen, sending donations to the school fair, offering recipes to the minister's kitchen. She must have her hands full, keeping a casual good-for-nothing like him in check."
"He travels a lot," I said, rather shortly. "Else I'm sure he'd do his share." Since when was keeping unusual hours a sign of dissolution?
"Maybe that's why you go around there so often," Bess murmured.
I was suddenly on alert. "I'm sorry?"
Bess looked straight at me, eyes wide and apparently guileless. "To help Josie with household repairs. Isn't that what you told us last time? I'm sure she appreciates your help. As you say, her brother travels a lot…."
I didn't mistake the verbal air quotes around those last words, did I? I wondered if I'd given myself away. Bess was far sharper than most people gave her credit for.
"Poor Whitman orphans." Mitzi sighed theatrically.
"Well, I know how that is," I said wryly.
Bess had the grace to look chastened. My parents were both sadly gone by now. "But you're so much more mature about it, Dylan. You're such a steady young man."
I bit back a rueful sigh of my own. I'd found there wasn't much else to do when Bess cranked up her bossiness. "I'm just being neighbourly too. I helped them get settled when they moved in, and we became friends. That's why I go around there. Occasionally."
"You have a key, Dylan."
I cleared my throat. "When they're both away, I collect the post, check the pipes aren't leaking. That kind of thing."
"She keeps a really tidy house." Mitzi admired her shoes, which were new from our recent trip out to the sales. Her attention was drifting away. "She's always been most hospitable. Did I say that before?"
"You did." I smiled with fondness at her.
Mitzi fluttered her eyelashes like she was fifty years younger all over again and I was one of the many, many boyfriends who'd apparently called at her house when she was Mum's age and twice as flighty. "Josie invited me in for tea only the other day." I knew that'd mean at least six months ago, because Josie hadn't been around much this season. "Showed me all the pictures of her poor, dead parents. Her school photos. Some of that brother of hers." She straightened a miniscule crease in the fabric at her wrist. "I must confess I can see the attraction."
I stared at her, startled. Bess looked studiously at her lap.
A slight blush appeared on Mitzi's cheeks but her eyes were innocently steady. "Her father, I'm talking about. So very handsome, in the family portraits. It's easy to see where Josie got those pretty, dark looks. What did you think I meant, Dylan? It's really not polite to sit slack-jawed like that."
"I suppose the son has the looks too." Bess's eyes were on me now.
Mitzi's nose crinkled. "But he's a boy, Bess. Who's bothered with what boys look like?"
"Not us, of course," Bess agreed. They glanced quickly at each other and—no other word for it—smirked.
I opened my mouth to offer my opinion, then closed it again. The room felt unseasonably warm. I wondered when, if ever, I'd learn to spot if they were up to something.
With one of the amazing non sequiturs Mitzi was infamous for, she swivelled around to stare at me again. "Did you taste that cinnamon apple pie of Josie's, Dylan? Never too much spice, and her short crust pastry's as light as filo."
"A cook that good should be on The Great British Bake Off." Bess nodded in agreement with Mitzi.
"I had just the tiniest of slices that day, but it was delicious. You could do well for yourself using some of her recipes, boy." Both aunts often called me "boy," conveniently forgetting I was old enough to have boys of my own if I'd chosen. Perhaps it helped them maintain the illusion they were still young ladies themselves.
I got up from my other armchair to collect the pot of strong English tea, to refill their cups. The great-aunts came to visit me once a week, every week, in all weathers. I fetched them from Laurel House, a sheltered community on the other side of the park, and guided them into my house like the precious cargo they were. I listened to their lively, often argumentative chat and fed them tea and plenty of cakes. They'd loved me as a child, and Mum too. For a while, after my father's death, we'd all shared this big, old-fashioned house. When Mum died a few years after that, the aunts stayed on and were my guardians for my last few years of childhood. Then they'd insisted on moving to Laurel House and built a wide group of new friends that put me, the free spirit, to shame.
So now, when I was adult and it was my inherited home, it seemed natural for me—and a pleasure—to look after them in return. No one ever told me how or why the great-aunts had originally come to live in the same house as us, nor was my knowledge of our true relationship as clear as it should have been. They were definitely not sisters, and I sometimes doubted they were even Mum's blood relatives. But like I said, we lived in a village, and if you were settled there like I was, you took whatever package you were dealt—which, for me, included Aunts Bess and Mitzi. Like any good double act, they made me smile with their wicked wit and dubious reminiscences. And yes… even their shameless attempts at matchmaking.
It was a good bargain, in my eyes.
"I'll have just the tiniest slice of the chocolate." Mitzi's eyes flickered over the cake stand. It would be her third.
"Maybe not as good as Josie's," I murmured. "But I'm glad you like it."
Bess snorted quietly and Mitzi just shook her head. They both shifted on their seats, getting settled for the replenished refreshments. I smiled, appreciating the fact that despite their casual chatter, they always treated our visits like a proper occasion. Their hair was always fiercely styled and coloured, and they doused themselves in a mist of perfume that wafted up my nose. And their clothes? Both of them were well past the socially acceptable age for wearing sweatshirts with "Just Do It" on the front, in Mitzi's case, and cropped capri pants in Bess's, but neither one of them seemed to care. For them, it was always their favourite outfit of the day.
About Clare
Clare London took her pen name from the city where she lives, loves, and writes. A lone, brave female in a frenetic, testosterone-fuelled family home, she juggles her writing with her other day job as an accountant.
She's written in many genres and across many settings, with award-winning novels and short stories published both online and in print. She says she likes variety in her writing while friends say she's just fickle, but as long as both theories spawn good fiction, she's happy. Most of her work features male/male romance and drama with a healthy serving of physical passion, as she enjoys both reading and writing about strong, sympathetic, and sexy characters.
Clare currently has several novels sulking at that tricky chapter three stage and plenty of other projects in mind… she just has to find out where she left them in that frenetic, testosterone-fuelled family home.
Clare loves to hear from readers, and you can contact her here:
Website|  Blog | Facebook | Twitter | Goodreads | Amazon | Google + E-mail: clarelondon11@yahoo.co.uk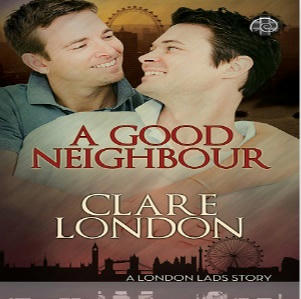 Giveaway!
Win a backlist ebook from Clare London!
(Just click the link below)