Hi guys, we have Brandon Witt popping in today with his upcoming release Vodka & Handcuffs, we have a brilliant guest post, a great excerpt and a fantastic giveaway, so check out the post and leave a comment to enter the giveaway! ❤ ~Pixie~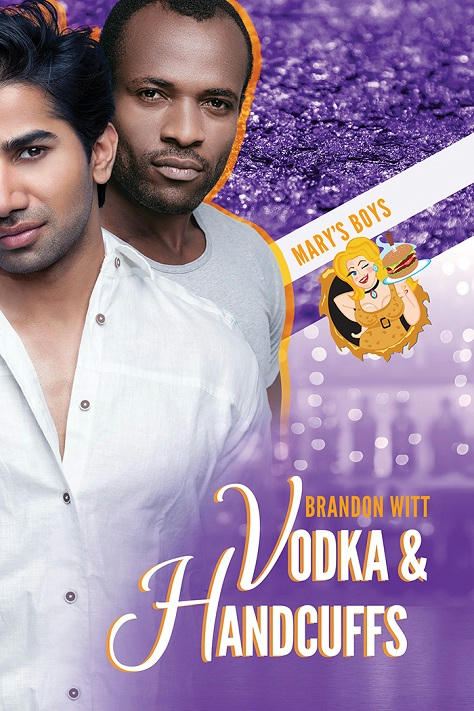 Vodka & Handcuffs
by
Brandon Witt
Vahin Arora, Hamburger Mary's sexy bartender, plays the flirtatious role so well even his closest friends—his chosen family at Mary's—don't realize Vahin hasn't had a hookup in months. Then Tall, Dark, and Handsome steps through the door, and Vahin's libido races back to life.
Being a black cop on the Denver police force is no easy job—Marlon Barton can't imagine adding being gay to the equation. And while Marlon loves his work as an officer, his life has taken a turn for the hellish because of his new partner, the nephew of a senator.
Fleeing his partner's company one night, Marlon stumbles into Mary's for the first time… and wakes up with a hangover in the bartender's bed. The one-night stand heats up into a budding romance, but not without stress as Marlon's partner's actions threaten Vahin's livelihood and Marlon's future on the force. Can Vahin and Marlon face the challenges and hold on to the love, friendship, and family they've found?
Release date: 26th April 2017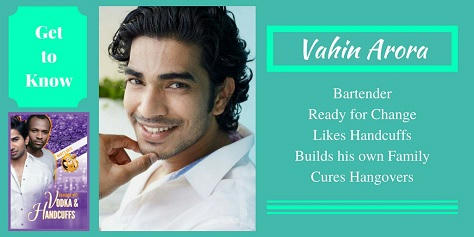 Brandon Witt!
Sometimes it takes me awhile to completely fall head over heals in love with a character.  I always arrive there before I start writing the novel, at least to a large degree, through planning and getting to know their back-story.  However, then there are characters who show up and I fall in love instantly.  Such was the case of Vahin Arora. 
Even before I knew his name, I was smitten with the flirty bartender. He showed up in my brain, announced that I was going to love him, and there was no going back.  In all honesty, I think Vodka & Handcuffs is complete as it is in its novella format.  However, as the story drew to a close, I have to admit that I lamented not being able to stay with Vahin longer.  I think I could've filled up a trilogy about Vahin's life.  Ultimately though, I believe he is just as powerful, maybe more so, as he stars in this installment of Mary's Boys.
Vahin is beautiful, in the heads turn and mouths drop open kind of way.  He's confident in that his beauty and he uses it with a deft hand as he tends bar, flirting to increase tips, to make people feel important, and simply making Hamburger Mary's a welcoming, fun place. Yet, there's more than just physical beauty to Vahin.  There's a longing for a deeper connection with just one other person, a longing that is a new experience for him.  There's the wounds of his past, the severing of family ties due to religious, cultural, and family expectations that caused Vahin to create his own family in the first place. And there's the stress, conflict, and maze to navigate through of being an Indian man from a Muslim culture/background in modern day America. See what I mean?  I could easily have gotten lost to Mary's Bartender for half a year and still have had stories of his to tell. And, again, I believe this 100 page snapshot captures his heart, his struggle, and the essence of the man Vahin was and is ultimately destined to be.  Looking back in my own life, and I'd bet the same is true for you, there are moments (recognized or not at the time) that shifted my life in completely new and unseen directions and change not only my destiny, but who I was.  Vodka & Handcuffs is that story for Vahin, one that brings clarity, strength and romance into his life.
I'm excited for you to fall in love with him!
Please join me at Joyfully Jay for the next stop of the blog tour to learn about Marlon, the love of Vahin's life.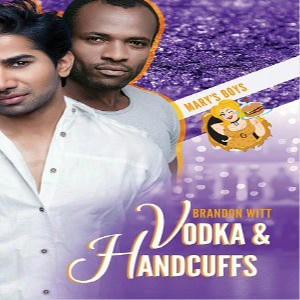 Excerpt!
Vahin Arora
MOST OF the time, the mixture of blaring pop music, sports commentary, and people chattering was a smooth comfort for Vahin. Almost like an enveloping blanket of sound. At the moment, though, it was all a little too much. Too frantic and inescapable. It made him wish he hadn't given up smoking a year ago; it would be nice to have an excuse to hang out in the parking lot for a few minutes.
"I know I keep saying it, but you are so fucking hot. You really won't take off your shirt for me?"
Actually it wasn't the music, sports television, or crowd that was getting under his skin. It was the blond twentysomething who was too pretty for his own good and about as interesting as a golf marathon.
Vahin cut off his pour of vodka, spared a glance at the guy, and winked. Smiles and flirting equaled a welcoming environment for all the customers, not to mention good tips. "This skintight tank top isn't revealing enough?"
The blond licked his lips. Did that honestly ever work for the guy? "It makes me want you more."
"Well, then, sounds like you're enjoying me clothed." Vahin licked his own lips, just to see the reaction—a shuddering melting expression—and moved down the curved bar to deliver the drinks to Cody, who was waiting to take them to table six.
He took a second to glance past the bar area of Mary's and take in the bright, happy room—part exposed brick wall, part vintage pink wallpaper. He loved this place. Truly. It was more of a home than anywhere else. He simply needed a moment to remember it. The flirting used to be a lot more fun. Still was, most of the time, but his tolerance for those inept with the skill was lessening. He plastered on a smile before returning to the blond. "Another Manhattan?"
The man shook his head. "Not yet. Thanks, though." He leaned across the bar, attempting to peer over the other side, as if hoping Vahin might not be wearing pants below his tank top. "You know, I've always wanted to be with an Indian. Ever since watching Slumdog Millionaire. Are you from India? Did you, like, ride elephants and shit?"
Oh God. That again. Probably saw that damn film when he was fourteen and masturbated in his bedroom to the Pussycat Dolls singing "Jai Ho."
"You know, I rode an elephant at a zoo once, close to where I grew up. In Connecticut."
"Oh." His expression fell, and he gave a partial shrug. "There's only another couple of hours until the bar closes, right? You wanna come over to my place?"
Vahin almost expected him to end the invitation with an offer to pretend to be an elephant he could ride. "Actually the boss man has me staying extra late to clean up the whole restaurant… by myself. There's several people out sick tonight." He made a sweeping gesture. "As you can see, this place is three old houses made into one restaurant. It'll take me quite a while." Not waiting for a response, he turned to the guy who was seated two stools down, a regular who Vahin knew loved blonds. "Hey, Aron. Have you met—" Shit, he was normally better at this. "—Joseph? He's a movie buff."
Aron glanced at Joseph, his eyes brightening, and slid over a seat. "Really?"
Vahin popped open a bottle of Bud Light, Aron's drink of choice, and set it in front of him. Aron didn't even notice, already attempting conversation with Joseph.
Aron was of Latin descent, but Vahin figured Joseph was probably too buzzed to tell the difference. Without looking at them again, he moved down the bar, mentally patting himself on the back. He'd managed to distract the blond without offense and helped his friend get laid, even if he'd have to perform while listening to the Pussycat Dolls. Two birds, one stone.
A shoulder shoved into his back, causing him to stumble slightly. Vahin turned around. Steven. "What was that for?"
"The boss man is making me stay late, everyone is out sick?"
Vahin's cheeks heated. "Oh, you heard that?"
Steven nodded. "Sure did."
"Obviously not very well. I didn't say everyone is out sick."
Steven chuckled, but the sound didn't carry through the noise of the bar. "Pat's the only one out tonight, and that's only because she got called in to the hospital."
"I know."
He looked over Vahin's shoulder, toward Joseph and Aron. "What's the matter? He's pretty hot."
Vahin rolled his eyes. "You're the one who likes them young, Steven, not me."
"Since when? I didn't know there was an age above eighteen you didn't like."
"Shut up. I'm trying to work here, boss man. Unless you're paying to chat me up."
Steven gave him a confused look, seemed like he wanted to say more, then shook his head slightly. He started to turn away but paused and motioned toward the other end of the bar. "That group of women is here for a bachelorette party. They didn't bother to call ahead, but we're trying to get some tables cleared up for them really quick. Will you make them a round of shots on the house, please? One of the dirty-sounding ones. You know, Cowboy Cocksuckers or Orgasms, something like that."
"Yeah, I think I knew what you meant by dirty-sounding." Vahin glanced at the women. He wasn't sure how he'd missed their entrance. Each one of them was wearing a veil and squealing like middle schoolers. He glared back at Steven. "You're trying to kill me."
Steven grinned wickedly. "What? You're turning down hot blond guys all of a sudden. Thought maybe you switched teams."
He leveled a glare at Steven. "I'm stealing a bottle of top-shelf bourbon tonight for this, just so you know."
Steven waggled his eyebrows and headed toward the end of the bar without comment. Vahin watched for a few moments as Steven made his way past the sports nooks and through the tables, stopping to greet the customers. It had been so many years since the two of them had hooked up—before they'd become friends or employer and employee—that he sometimes forgot how attractive the man was. Hot, really, in the stereotypical Colorado way. Rugged and bearded, Steven looked more like he should own a ranch than one of the gayest restaurant and bar franchises to ever exist.
Maybe if they'd met now, things would be different. They could have something more. No, not more. Steven was family, and in many ways, he had made Vahin's world bright for the first time. Not more, just…. He shook the thought away.
Steven was right, though. Vahin was changing. Had changed, actually. Though none of the others had realized it. He hadn't taken a random guy home in months. It showed what a stellar job he did with the flirting that none of them had picked up on the gradual shift. Even Vahin hadn't been aware of it at the beginning. Two weeks without getting laid had gone by before he noticed. It had all gotten… boring.
He realized he was staring at Steven again, picturing what sex would be like with him now, after all the years. Oh, dear Lord, he had to stop that. That wasn't going to lead anywhere good. And it didn't feel real. Steven was more of a brother at this point than anything. Vahin was feeling… desperate. Oh holy shit. He was feeling desperate. For what, though? A relationship?
Someone shoot him.
Vahin nearly launched himself at the bachelorette party, their overarching squeals suddenly exactly what he needed to cut through his thoughts.
He puffed up his chest, flashed his brilliant smile that he knew caused hearts to melt, and leaned across the bar, invading the women's space. "Orgasms, anyone?"

About Brandon!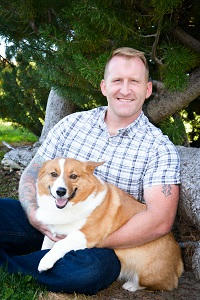 Brandon Witt's outlook on life is greatly impacted by his first eighteen years of growing up gay in a small town in the Ozarks, as well as fifteen years as a counselor and special education teacher for students with severe emotional disabilities. Add to that his obsession with corgis and mermaids, then factor in an unhealthy love affair with cheeseburgers, and you realize that with all those issues, he's got plenty to write about….
Website | Facebook Author Page | Twitter | Dreamspinner Press | Amazon | Goodreads | YouTube | Brandon's Patreon Support page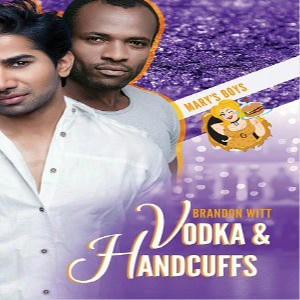 Giveaway!
Win a backlist ebook by Brandon Witt!
(Just leave a comment on this post)
Winner will be picked at random by Brandon

Check out the other blogs on the tour!
April 19 – MM Good Book Reviews
April 25 – Open Skye Book Reviews
April 26- The Novel Approach
April 26 – Alpha Book Reviews
April 28 – Divine Magazine
April 28 – My Fiction Nook
May 1 – Two Chicks Obsessed