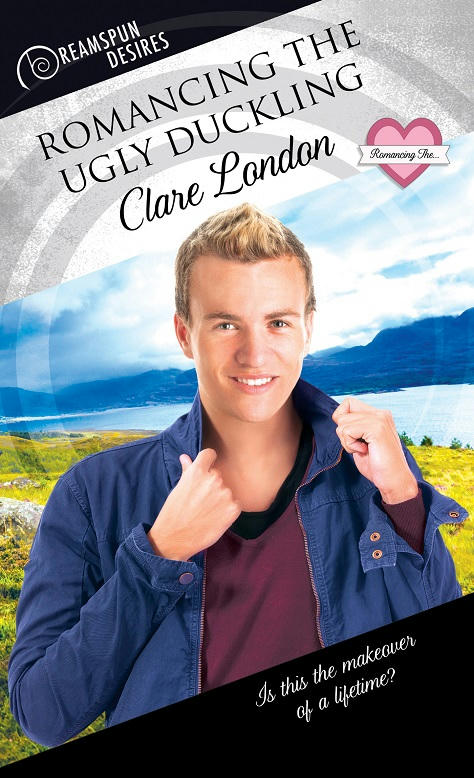 Title: Romancing the Ugly Duckling
Series: Dreamspun Desires 36 / Romancing The… 02
Author: Clare London
Genre: Contemporary
Length: Novel (260 pages)
Publisher: Dreamspinner Press (15 June 2017)
Heat Level: Moderate
Heart Rating: ♥♥♥♥ 4 Hearts
Blurb: Is this the makeover of a lifetime?
Ambitious fashionista Perry Goodwood lands the project of his dreams—track down a celebrity family's missing brother in the Scottish Highlands and bring him back to London for a TV reality show. But first he must transform the rugged loner into a glamorous sophisticate.
Greg Ventura has no use for high fashion. He lives on the isolated island of North Uist to escape the reminder that he's nowhere near as handsome as his gorgeous brothers and avoid the painful childhood memories of being bullied.
Greg wants nothing to do with city life, and Perry's never been outside London. When Perry is stranded on North Uist, this conflict seems insurmountable. But Greg is captivated by the vivacious Perry, and Perry by both the island and his host. However, Perry's one heartfelt wish remains: that ugly duckling Greg fulfill his potential as a swan.
ISBN: 978-1-63533-387-9
Product Link: https://www.dreamspinnerpress.com/books/romancing-the-ugly-duckling-by-clare-london-8498-b
Reviewer:  Prime
Review: This is a totally sweet story. For me I was looking forward to this one because I particularly enjoy to read Clare London's book. Her writing style speaks to me and makes the time fly as I consume the offering on my computer screen. The other thing is that I can never resist a book based in the UK – and nothing says romance like the guy running away from the big city, and romance on a Scottish Island.
Greg Ventura is the guy who left the hustle and bustle of the city to live in an island in the Scottish Highlands. Seriously, Outlander Obsessenachs will probably want to read this one for that alone, and I admit that is probably another part of why I was looking for to this. He comes from a family and famous, ridiculously good looking and ridiculously talented brothers. He's the Ugly Duckling. He doesn't think that he is as good looking as his brothers – mostly because his brothers instilled this thought into his mind. But now his brothers are calling on him again. They need him to be part of a reality TV show and look like a happy family.
That's how Greg meets Perry (Peregrine) Goodwood. Perry is a ambitious about his career as a designer/fashionista. It's hard to explain his career except that he is the guy that does the fashion makeovers. He's been hired by Greg's brothers to find Greg, make him over and get him to London to his family. The problem is that Perry gets more than he bargained for when he discovers the gentle, carefree soul that is Grey Ventura – very much unlike his brothers. On top of all that, he needs to be in London because he needs his job desperately, as mistakes from his past threaten to keep him in debt for longer than he can handle.
I love the story and the whirlwind Scottish romance. It is as simple as that. It appeals to that side of me that loves everything about British dramas and the Scottish Highlands (even with all his rain and cold).