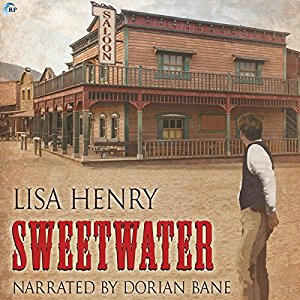 Title: Sweetwater
Author: Lisa Henry
Genre: Historical Old West
Narrator: Dorian Bane
Length: 7 hrs 35 min
Publisher: Riptide (5th August 2016)
Heat Level: Moderate – Explicit
Heart Rating: ♥♥♥ 3 Hearts
Narration: ♥♥♥♥ 4 Hearts
Blurb: Wyoming Territory, 1870.
Elijah Carter is afflicted. Most of the townsfolk of South Pass City treat him as a simpleton because he's deaf, but that's not his only problem. Something in Elijah runs contrary to nature and to God. Something that Elijah desperately tries to keep hidden.
Harlan Crane, owner of the Empire saloon, knows Elijah for what he is – and for all the ungodly things he wants. But Crane isn't the only one. Grady Mullins desires Elijah too, but unlike Crane, he refuses to push the kid.
When violence shatters Elijah's world, he is caught between two very different men and two devastating urges: revenge, and despair. In a boomtown teetering on the edge of a bust, Elijah must face what it means to be a man in control of his own destiny, and choose a course that might end his life…or truly begin it for the very first time.
Product Link: Audible US | Audible UK
Reviewer: Gigi
Review: Sweetwater is anything but sweet, ending with a gut wrenching violent streak, sexual abuse, questionable consent, and a happy for now ending. If you like your reading gritty, a true harsh reality and your lovers dark and brooding, here you go! Lots of BDSM content, and did I mention violence. Sweetwater made even me a bit squeamish. 
Sweetwater is probably a pretty accurate description of the life of an orphaned kid who parents died of disease on the wagon train out, taken in by the Doctor who saved his life, raised by a cruel community who believed him to be simple, Elijah is actually a very complicated individual who is trying to figure himself and his sexuality out. 
Elijah takes what he can get when it comes to his sexual attraction ad developing kinks. Violence and criminal activity push him into the hands of the kingpin in town, that is until a mysterious cowboy comes to town as part of the cattle rusting ring the town is aiding. 
I do really enjoy a little kink, some heavy handedness, and aggressive dominant sexual scenes, there's plenty of that. But there is so much violence and truly questionable rape scenarios that are not balanced out enough with a protected/loved place for Eli for me. Too violent, too sad, and too unstable. Maybe I need more warm and fuzzy at the end of a violent sad journey. 
The narration is very good, the writing is actually excellent, and if you like dark and dirty, this is the book for you!