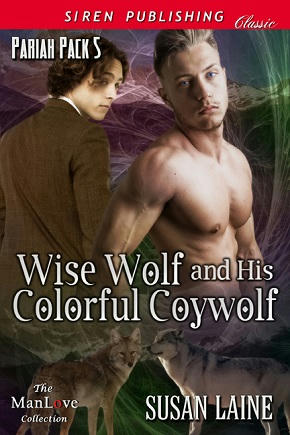 Title: Wise Wolf and His Colorful Coywolf
Series: Pariah Pack #5
Author: Susan Laine
Genre: Paranormal
Length: Novella (119 Pages)
Publisher: Siren Publishing (March 7, 2017)
Heat Level: Low
Heart Rating: ♥♥♥♥ 3.5 Hearts
Blurb: Randy Walker has issues. He's a lone coywolf in a group of wolves, he's an Omega in a pack that already has one, and his past abuse complicates matters. He's nineteen, but his mate is a century old. He's uneducated, but his mate is a scholar. And he's recently rediscovered his sense of smell, only now it seems to be malfunctioning.
Kade Colton is the Zeta of his pack, a historian, and a chronicler. Two months ago, he found his mate and started teaching him lessons. They bond over a shared passion of learning. Then, former members of the pack who left during a crisis return. This causes schisms in the ranks. One is the Tau, a spiritualist Kade despises. And in the adjacent national park, a rogue coywolf pack tempts Randy to join them and be with his own kind.
With so many obstacles in the way, can Randy and Kade have their happily ever after? 
ISBN: 978-1-64010-016-9
Product Link: http://www.bookstrand.com/book/wise-wolf-and-his-colorful-coywolf
Reviewer: Lisa
Review:  Each book in the Pariah Pack collection features a different romantic couple. To enjoy the overall story arc and crossover characters, I would recommend reading the series in sequential order.   
I felt that this one started in the middle of the story and not at the beginning.  You walk into it knowing who was who and where each one belongs also.  There were no surprise gasp or suspense to it.  Also what was different was this author added in some extra roles into a wolf pack, that you would not normally find anywhere else.  Now I am not saying that it is a bad thing, but a bit off to me.  
Kade is the Zeta and Randy is an omega.  The difference is Kade is a wolf and Randy is a coywolf, a mixture between coyote and wolf.  Kade is also a bit older then Randy and teaches the pack life to others, and is in fact teaching Randy the history since he missed out on so much with his last pack.  He is also his mate.
Randy is nineteen and seems to have a good head on his shoulders.  He doesn't understand many of what has happened and has been abused before.  Then the packs deserters show up and one is looking to cause trouble.  Want to know more, read the book.
Now I wasn't too sure about the all-female coywolves that showed up, and didn't much care for it.  I can see how she could be of help, but really she was off to me.  Then the tau, well it really didn't make any sense to me at all.  Why not just call him a medicine man, and let the reader get the full effect.  Added unusual words do not make a story better, just drove me nuts.  Also the pack dynamics drove me crazy as well.  The whole book felt off and a bit twisted to me.  I don't know what was missing but I hate to admit that this story just didn't rock my world at all.