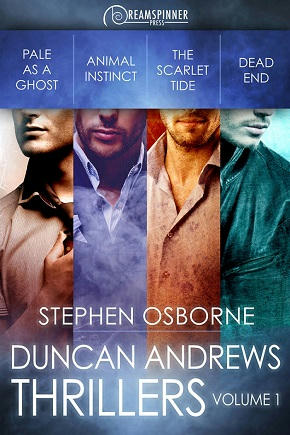 Title: Duncan Andrews Thrillers Vol. 1
Series:  Duncan Andrews Thrillers Vol 1
Author: Stephen Osborne
Genre: Angels and Demons, Ghosts, Spirits, Mystery, Suspense, Other Paranormal
Length: Novel (642 pages)
Publisher: Dreamspinner Press (December 2, 2016)
Heat Level: Moderate
Heart Rating: ♥♥♥♥♥ 5 Hearts
Blurb: Private detective Duncan Andrews's best friend Gina is a witch. His dog is a zombie. And his dead boyfriend, Robbie, is a ghost. So it's hardly any wonder that he uses his connection to the supernatural to help him solve cases. In Pale as a Ghost, Duncan's on the trail of a serial killer who may not be human, while also trying to move on in his dating life. In Animal Instinct, someone is using the skull of a powerful wizard—Gina's father—to control animals and attack young Ashton Marsh. In The Scarlet Tide, Duncan's latest case leads him to Chicago and a band whose members are all vampires. And in Dead End, Robbie's cousin Jason has moved into a house that's haunted by a serial killer, and Gina's on the run from witch-hunters. Through it all, Duncan must solve the case and balance a complicated personal life.
Pale as a Ghost, Animal Instinct, The Scarlet Tide, Dead End
ISBN-13: 978-1-63533-108-0
Product Link: https://www.dreamspinnerpress.com/books/the-duncan-andrews-thrillers-vol-1-by-stephen-osborne-7836-b
Reviewer: Shorty 
Review: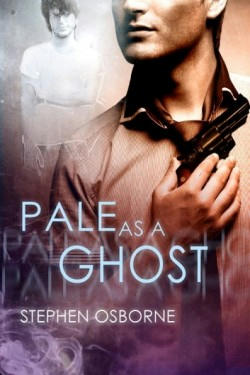 Pale as a Ghost – Duncan Andrews Thrillers # 1 Heart Rating: ♥♥♥♥♥ 5 Hearts
Pale as a Ghost stars private detective Duncan Andrews and his faithful zombie dog, Daisy, his best friend Gina, who is a witch and his boyfriend's ghost, Robbie, who was killed ten years prior. I liked the story. It flowed smoothly with some humor thrown in. Duncan is able to see, hear and communicate with ghosts hence his ability to see his dead boyfriend. Makes for dating non-existent. He is lonely and wants companionship when he meets Nick. 
The cases he takes on are both complex and simple. Find a missing woman and determine who is killing women. The second case takes on a disturbing vibe as he discovers the person is not actually human. This person is copying the jack the ripper murders once every one hundred years. There is plenty of action, suspense and drama to be had throughout this story. I liked the flow of the book. Very well detailed with a hint of more to come.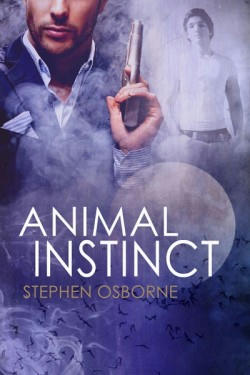 Animal Instinct – Duncan Andrews Thrillers # 2 Heart Rating: ♥♥♥♥♥ 5 Hearts
Duncan is on the hunt for a stolen skull belonging to a powerful warlock. This skull gifts the human unimaginable powers while at the same time changing them. Several deaths and many attacks later Duncan's life is at stake to find the culprit. 
A fantastic story with plenty of action, mystery and suspense. I loved the way Duncan left no stone unturned in his quest to find the skull. A television psychic causes Robbie and Duncan problems as well by making Robbie think it's better for him to move on. I loved it.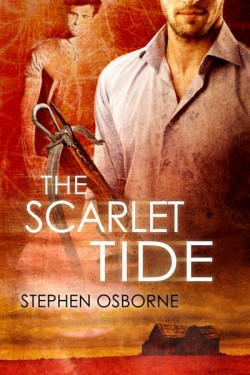 The Scarlet Tide – Duncan Andrews Thrillers # 3 Heart Rating: ♥♥♥♥♥ 5 Hearts
In this exciting addition to the series Duncan is on the case of finding a boyfriend who is acting strange only to discover he's a vampire. Doing away with a band of vampires is not easy. Duncan gets a shock as the leader Dominic bites him. Amid all this is Nick's request to Gina to allow him to see ghosts and Robbie's plans to leave on New Year's. 
I liked this story. Though I do have to say it is getting irritating about the way Robbie and Duncan keep bringing up and pondering Robbie leaving. Either leave or stay already. Make up your minds and stick with the decision.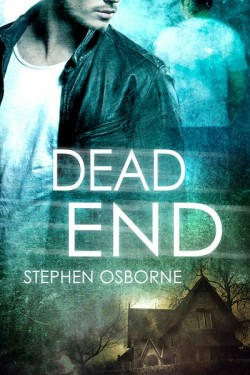 Dead End – Duncan Andrews Thrillers # 4 Heart Rating: ♥♥♥♥♥ 5 Hearts
Duncan Andrews is on the case of an evil ghost hell-bent on destroying lives. Moore was a doctor but also a serial killer. He took the lives of seven young men then his own life. In death he is the embodiment of pure evil. With the help of his team Duncan will attempt to get rid of the ghosts haunting Jason's, Robbie's cousin, house. 
In this book a lot is going on. A witch hunting group has set sights on Gina for elimination, an incubi is on the loose, Nick has settled into his ghost helping, Duncan and Robbie come to terms with their relationship. I liked all the new twists and turns as they kept the story interesting and intriguing.
Overall:
All in all, this bundle was absolutely awesome. Each book gives the reader an insight into Duncan and Robbie's lives. The cases bring about a closeness with each other as they work together to solve each one. The paranormal characters were different and fresh for each story and drew the reader in. Demons, incubi, ghosts, witches, hunters, vampires and a zombie dog made for fantastic well written reads. I truly loved them and highly recommend each one.